Well I'm waiting for an answer! Do you Google yourself then? I Rob Abdul hereby declare and admit that I Google myself and am rather proud to admit it!
Some call it a 'guilty pleasure', others call it 'ego surfing'; studies indicate up to 47% of folk have 'Googled' themselves. Google wants you to Google yourself! The Big G, are aware of what they deem as "vanity" searches. So much so that Google have a new offering, Google Profiles, in which one is able to claim one's very own profile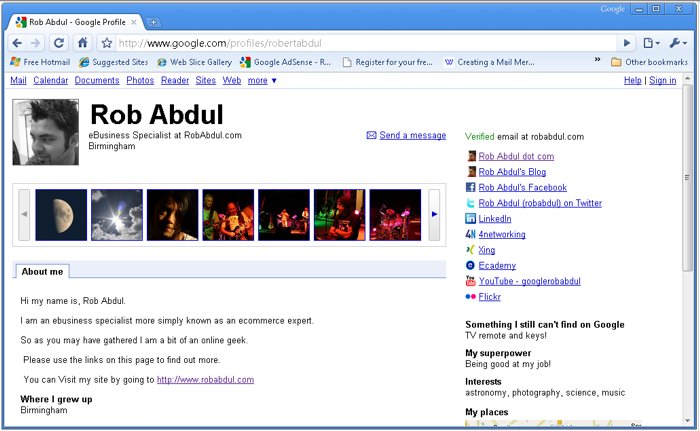 As you can see in your Google profile is very similar to a Facebook profile page. You can post links to your profile, connect to your flickr photostream and post general information about yourself. The best of all is that it is FREE. (It would be a shame to kick a gift horse in the mouth – get your Google Profile today).
I personally have spent the last 3 years branding myself. My brand is my name, "Rob Abdul". The logic goes something like this:
I am an "ebusiness specialist" otherwise known as an "ecommerce expert". I can be found on all the major search engines Google, Bing, Yahoo for these keywords too. In there early days I could not be found for "ebusiness specialist" or "ecommerce expert".
So rather than compete with competitive keywords and phrases I did a good job for a Client and promote my Brand name "Rob Abdul" at them. The word of mouth after all is regarded as the most powerful of marketing mediums; I merely need to be Googled for my name to be found!
There are a couple of important concepts at play here:
Your Brand Name
Online Reputation Management
Googling Your Brand Name
The big players, the super heavy weights out there spend millions on their brand image, brand positioning and have it sussed when it comes to being Googled. Further more it is widely accepted by search engine experts that Google has a bias towards ranking branded sites higher than non branded sites.
So unless you're "Sony", "HP", "Compaq" or any of the other global brands you need to invest time and money on a branding exercise.
Online Reputation Management
Think of the last time you checked a seller's feedback and read their comments received to judge if they were reputable enough to place a bid on.
There are many social networking sites out there where you can register and post a profile with just a valid email address. Before you know it you can have many pages on the net about you; where your posted a review a comment or setup a profile. Employers will tend to Google you prior to an interview. So it is important you find a way to manage information about you with tools like 'Google Alerts'.