Abstract/Synopsis
Until 1981, BT Plc was a Government based organization, when it was privatized. BT is now a PLC Company (Public Limited Company). The stock markets shares are issued amongst private investors, who are then own a share of the company. The company is much smaller now than it used to be.
MMO2 Plc was also created on 14 November 2001. BT had under its wing, many subsidiaries including BT Cellnet. When the two companies parted on 14 November 2001, the High Court gave its approval and so both companies now share different names; MMO2 Plc and BT Group Plc.
Irrespective of size, BT Plc is one of the world's leading providers of telecommunications services and one of the largest private sector companies throughout Europe. BT prides itself on its extensive activity list, some of which include;
Local/long distance and international telecommunications services
Mobile communications,
Internet services and
IT solutions.
Introduction
This report will seek to cover all, if not most of the lecture programme and will consider the impact on, around and within a company such as British Telecom, following a major change, preferably in the media sector industry. This change management may involve the trial run of a new product or service, a takeover, a merger, redundancies or a large-scale growth or decline.
Organizational culture
Management structure
Management of change
Marketing measures
Training/recruitment
Teamwork
Leadership
Financial planning, budgeting and cost control
Business process improvement
BT Organizational Culture
Definition
"The collection of traditions, values, policies, beliefs and attitudes that constitutes a pervasive context for everything we do and think in an organization".
In shifting the emphasis from Government-owned status to a Public Limited Company, Has meant a recreation of the organizational culture from a public utilities company that relies on subsidy provided by the Government to that of a dynamic but profit-centered business exploring every avenue to reduce costs but to increase the share of the telecommunications industry in this country and abroad.
Prior to the privatization of BT was in the public sector, which meant any services, offered as a company is relied on customer demand. In light of the world we live in now, this is not a very reliable strategy. Almost everyone needs a phone now, but you no longer have to pay for your connection via BT. BT has come under considerable strain in competing against other companies for even more extensive business and more business means more revenue.
BT Management Structures
BT has a chairman (Sir Christopher Bland) and chief executive (Sir Peter Bonfield). Due to the sheer size of the company, with a capacity of over 130,000 Employees, BT is further divided into 7 broad divisions, which read as follows:Yell, Ignite, Concert, BT Wireless, BT Wholesale, BT Retail and Open World.
Yell – The Yellow Pages Group
Ignite – Researchers of future technologies
Concert – BT and AT&T international alliance
BT Wireless – Mobile communications
BT Wholesale – Telecommunications services offered to large businesses
BT Open World – Internet services division.
Yellow Pages was actually sold and a joint business venture was created with Acenture, outsourcing HR Administration.
In the summer of 2000, BT was split into various other lines of business; BT Ignite, BT Retail, BT Openworld and BT Wholesale. BT had accumulated a large debt of £30 billion and they had also lost their credit rating from AAA to AA. Borrowing became difficult and so interest rates had to be raised. Een the BT share price had fallen from £15.00 to as little as £6.00 and was still falling.
BT sold a lot of its assets to reduce the debt. Assets such as their leave from the Asia Pacific, selling the joint venture interest called "Concert in the USA". It was certainly a difficult time for all involved.
BT Management of Change
BT is committed to organizational learning and action planning is therefore an important process of this. Below is a 4-step learning process useful to format your action plan (remember that you need to practice regularly to achieve a continual improvement).
AIM
Decide to change
Brainstorm options
Evaluate your ideas
PLAN
Involve the team
Commitment to communicate
Agree a plan
DO
REVIEW
Successful reviews
Remember
Celebrate success
AIM
It is vital for any team to clearly understand what your CARE results mean, real issues are and what causes the problems. Remember there a number of people who are planning changes within their organization there are pre-requisites such as,
Look at causes of problems, rather than the symptoms
Change has to be meaningful to gain commitment
Change doesn't have to be big
First steps to change
Step 1
Always consider the amount of changes you feel would make the greatest difference to your team, priorities and areas requiring action. Before going any further, weigh up both ends of the scale and begin with the advantages and disadvantages of your whole project.
Step 2
Specifically consider what the change will involve. Consider if people are willing to make such changes. Consider your selling technique to your very own team.
Step 3
Consider the risks attached to the change. Most people tend to resist change if they perceive losing something of importance to them. Such examples include:
Control
Freedom
Comfort
Predictability.
Step 4
Last but by no means least, it is vital that you try to quantify the gains you will receive as a result of the change. What are the reasons and advantages of doing it? Aim to change something. Change should always be a positive move, worthwhile and beneficial to all those involved within the team.
Quite often, lack of enthusiasm can affect team structure and team performance. In parallel to this, some people get carried away with elaborate action plans losing track of the change required and for what purpose. Todays's excessive technology allows steady information at your fingertips. Examples include:
Quality of service data
Competitor analysis
Customer satisfaction surveys
Be sure why you and your team are committed to change.
BT Marketing Measures
Value Based Measures
TRS (Total Shareholder Returns) is the most important external measure of the company's performance. BT's overall objective is to generate superior Total Shareholder Returns over the long term. The idea being to maintain a position of at least 30th in the FTSE as measured by TSR.
TRS cannot be measured for a business unit because a business unit will generally have no market valuation and pay no dividends. Appropriate internal measures must be derived so that objectives may be set for within individual business units, consistent with the overall TSR objective.
BT Intrinsic Value
The intrinsic value of a business unit is the equivalent to that of the external market value. It is the sum of expected future discounted cash flows. In my case, the expected future cash flows are generated internally from management's best possible forecasts based on their understanding of the business environment and their knowledge of the business.
There are two variants of intrinsic value:
Enterprise value and equity value
Deducting debt from enterprise value derives equity value.
Management forecast will rarely extend beyond 10 years. However, it is at this point that the business will cease to exist and a set of assumptions must be made to derive the contribution to intrinsic value of cash flows beyond this time (the 'residual value').
There have been a number of methodologies used previously for this purpose, based on a 'perpetuity' calculation assuming constant growth rates and returns beyond the detailed forecast period. This then offers misleading valuations, implicitly assuming that value is being generated as much as 100 years later!
The approach adopted for intrinsic value within the VBM framework in BT has been developed by Holt Value Associates and is based on Cash Flow Return on Investment (CFROI). In brief, the assumption is that returns and growth rates decrease to a market average over a 40-year period. After 40 years; value is neither created nor destroyed.
BT Training/Recruitment
Recruitment
BT does not tend to recruit agency people the agency recruits their employees. This means an agency Employee who will undertake work for BT whilst employed by an agency.
Why recruit an agency/temporary person?
Ask oneself, if they are really needed
Utilization of the skills already present in the team
Do any colleagues have team members that could fulfill the role
What, if anything can the first call do to help?
Try looking to recruit and questions
Can the work in my team be organized, prioritized and delegated without employing another agency person
What will the impact be on be on the team and company?
Consider the extensive Employees at BT, surely there is someone within BT to do the job! If not then:
What will the new recruit do
Length of service required
Location for their area of work
Recruitment of temporary agency people/contractors
If it is necessary to employ an agency applicant/contractor, recruitment should be from agencies covered centrally, with approved suppliers.
If having explored the above aforementioned options is looking grim then it may become necessary to employ a management agency person/contractor to carry out work not covered by centrally placed agency contracts with approved suppliers.
External Recruitment
Should a position need to be filled by candidates outside BT then HR & Development services maintains a skilled team of Recruitment and Assessment Specialists, dedicated to providing an end to end recruitment service to all BT business. Our standard external recruitment service will deliver the following:
Vacancy Registration – our dedicated vacancy handling team will register and progress vacancies
Vacancy Advertising – advertising vacancies through the most appropriate published media and/or the Internet
Applicant handling and tracking – managing correspondence and contact with potential applicants and candidates to update on progress with their application
Applicant Screening and Matching – CV screening to shortlist candidates for test or interviews
Dedicated Line Manager support – to ensure BT's employment policies, Equal Opportunities legislation, the Disability Discrimination Act and Employment Law are adhered to.
In addition, HR & Development Services are able to build bespoke services linking some of our other services (e.g. training and development) to cover a range of resource requirements from one off highly specialized vacancies right through to large scale, high volume recruitment exercises.
BT Training
Identifying training and developmental needs
Training requirements for individuals should coincide with the Syncordia Unit, business and training plans. Line Managers review the training and development needs of each person three months after they join, or change job, and to main fairness and equality, the opportunity for the Employee to request an appointment, to address any issues of concern and also:
Identify the training and development required by the person needs to achieve what is required of them both short and long term.
Agreeing a personal development plan or training record, with individual ideas about internal or external training,
Record the personal development plan/ training record, either on paper or electronically
Seeking feedback on whether they are providing the support the individuals needs
BT Teamwork
Teamwork, within BT's organization is referred to as C.A.R.E this word covers the following topics.
Teamwork
Recognition
Communication
Respecting Each Other
Learning & Development
Customers & Quality
Management & Leadership
The Job
B.T The Company
Facilities & Resources
CARE is an important ingredient for any team. Before I take you any further, we must establish a clear and concise understanding of the issues highlighted by CARE.
CARE provides considerable data that can help improve team management and helps to identify specific areas, which need attention and improvement, enabling the team to pinpoint exactly what needs to be done. In this way, communication and commitment amongst the team. I intend concentrating on Management of the change.
Teamwork is a vital ingredient in any organization and BT is no exception. It is crucial that all team members possess good communication with staff that forms the team. Team morale is a must and often lack of can cause a negative atmosphere, within which no one wishes to work or be a part of. Below is a list clarifying BT's thoughts on teamwork and how they perceive it:
My team meets together with the Manager for team meetings, which should at the very least take place at least once a month, every month.
Team meetings help us to operate more effectively.
The willingness to help each other, even if it means doing something outside their usual activities or job description.
Excellent cooperation and communication within my team and other teams.
My Manager encourages team members to contribute to work outside the team.
BT Teamwork Presence
Team Work Presence?
Team Work Presence is a type of software application designed by "Windows", allowing you to conference with up to 20 people in a virtual meeting room, via your home/office computer. You also have full control over the meeting from your PC, e.g. slide shows and so forth. Below is a diagram showing the "BT Team Work Presence" basic design.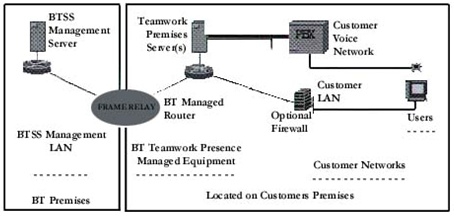 BT Leadership
Definition
"The behavior of all managers in driving the organization towards total quality. How the behavior and actions of the executive team and all other leaders inspire, support and promote a culture of Total Quality Management as the organization's fundamental process improvement".
Criterion Parts
Visible involvement to achieve Total Quality
Recognition and appreciation of efforts and successes of individuals and teams
Supporting improvement and involvement by provision of appropriate resources and assistance.
Involvement with Customers and Suppliers
Active promotion of Total Quality outside of the organization
Financial Planning, budgeting and cost control
Financial planning and all other associated reports are represented to shareholders annually and of course must have shareholder approval.
The separation of business divisions outlined above helps to make financial planning and cost control easier. Each division consists of business units, which are all of the individual teams that make up one particular division.
Financial planning, budgeting and cost controls can be created like that of business unit levels, making analysis and predictions more accurate. Cost control attends to the cost of running a particular part of the business for 12 months and then draws plans to make savings the following year.
BT has a human resources division that maintains the care of all its Employees. The cost of running this division is shared amongst all the other divisions, as overall there is equal benefit. So, BT calculates the cost to run a HR division, dividing this cost between the other divisions on a percentage basis.
BT Business Process Improvement
Introduction
The Health Check Assessment Method (HAM) has now been in use for over 5 years, its aim is to ensure that units become aware of any weak spots in their local software engineering process, and that we find out if corrective actions are needed.
Units that have been undergoing Health Check Assessments over a period of time and be able to demonstrate yearly improvement. Many areas of BT have significantly improved their software development processes since Health Check Assessment began.
An Overview
A health check is an independent assessment of the software engineering process within a unit as compared against industry best practice. It is preformed by conducting a series of one to one interviews within a unit with people who have been identified by that unit as being a representative of their software engineering practice.
The checklists used in the health checks have been produced with the help of BT's special interest groups and technical experts. Each checklist covers the main points. The interviews are then performed, ensuring consistency across units. With this in mind, the interviewer has to cover the main topics, which are as follows:
Project Management including Risk Management and cost estimation
Requirement capture and analysis
Verification, validation and testing
Metrication
Design
Configuration management
Performance engineering
Implementation
Maintenance and release
Consultancy
Feedback is on:
" Miscellaneous/personal concerns
" Major strengths and lessons learnt
All comments are in confidence. The Health Check Programme is run annually, ensuring that units are not assessed too often and allowing annual reports to be produced.
BT RECENT DEVELOPMENTS
The UK telecoms giant BT is facing its biggest corporate upheaval since the company was privatised in 1984. Crippled by a £30bn debt burden, the firm forced out its chairman, sold off a string of subsidiaries and had to go cap in hand to its shareholders and ask for fresh money.
Its financial difficulties partly stem from spending £10bn on acquiring next generation mobile phone licences in the UK and Germany. Even Freeserve and AOL are threatening to take BT to court claiming it is unfairly discriminating against competitors by connecting up far fewer of their customers than its own.
BT is trying its level best to resurface again as the giant of telecommunications it once was. They are even attempting to raise extra cash through a so-called "rights issue". BT shareholders are asked to give the company some urgently needed cash. In return they get more BT shares, but at a rather heavy discount.